OSHA 10 Hour General Industry Training 1013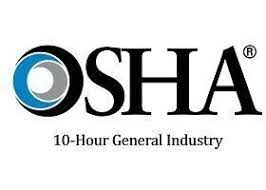 OSHA 10-Hour General Industry Training is appropriate for workers in the following fields: healthcare, factory operations, warehousing, manufacturing, storage and more.
Enrollment and completion of OSHA 10 General Industry Training will help educate workers to predict, prevent, identify and stop possible common worksite hazards.
Participants successfully completing the course requirements can immediately download and print your certificate of completion while you wait to receive your official OSHA 10 card in the mail.
Class is available in Engish and Spanish. Call 203-407-2028 to register.
Sessions:
10
Dates:
12/28/2022 to 8/31/2023
Location:
Virtual Online
Fees:
$79.00
(Class Fee)
Note: Registration has ended
Related Class Offerings